Since I've been up here in the Pacific Northwest, one thing I've missed is good Mexican food. Yes, there are a couple of good places, especially here in Redmond (like El Toreador), but even so, I've been doing more and more Mexican food cooking. Over the next few days, I'll be posting my recipes. But for now, my favorite:
Jeff's Cooky Carnitas
Ingredients:
4 chicken breasts
2 Cups water
Salt (to taste)
Ground Cumin
Chili Powder
Black Pepper
Garlic Powder
4-8 cloves of Garlic, diced (optional)
2 Cups fruit juice, the weirder the better.
The key to good carnitas is that they're cooked for a looooong time. And they're twice cooked. And they are a little tart. Ok, that's three keys.
Put the meat in a pot and season to taste. Add 2 cups water. Sorry there are no specific measurements for the seasonings, you're gonna have to wing it.
Cook for 2 hours at 325 degrees until the meat is done. If the water cooks off, add another cup.
Chop the meat into cubes or loosely shred. I prefer it shredded so there are more crispy bits (see below.)
Make up two cups of your favorite juice. The safe ones are orange or pineapple. I like passionfruit or guava. I use the frozen cans. I take about half the can, put it in a 4 cup measure, then add 2 cups water and stir. Makes for a light syrup.
Add the meat back into the pot, and pour the juice into the roaster (over the meat.) This also has the advantage of deglazing the pot and getting the good juices out. Add the garlic.
Cook at 325 degrees for an hour or two. Stir occasionally . The liquid will cook down. I prefer it to cook away altogether, myself, but if you want your carnitas a little wet, stop sooner.
Take the meat and put onto cookie sheets in a single layer. Broil for 5-10 minutes until carmelized and brown. Watch it carefully, there's a fine line between brown and burned.
They should look something like this: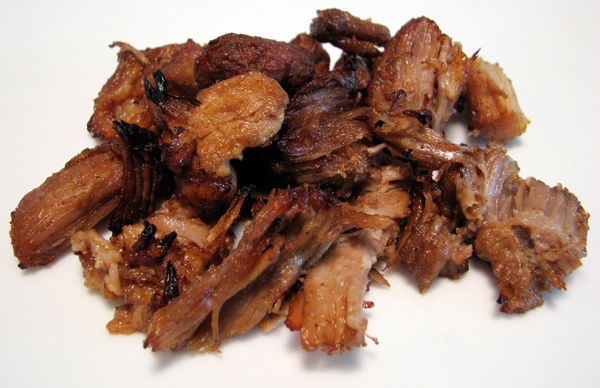 Serve with fresh tortillas and fresh salsa.